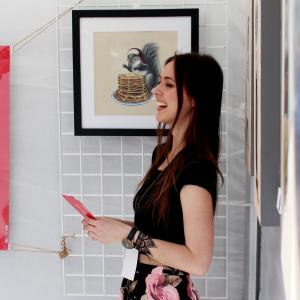 Katya Garipova
Artist member since 2018
Toronto, ON
Russian-born Katya Garipova is a Toronto-based artist and illustrator. After completing her BA in Graphic Arts from Winchester School of Art, UK, Katya moved to Toronto where she built her career in graphic design and advertising. In the last few years, she reignited her childhood passion for painting by publicly showing her acrylic & mixed media artwork for the first time in local galleries and shows in Toronto. She also loves to participate in Art Battles and charity art auctions.
Katya's latest illustrative series 'Millenimals' features endearing animal characters that are inspired by her childhood love of Russian fairytale storybooks, as well as modern Canadian millennial food rituals, and day-to-day observations. In tandem to her playful illustrative style, Garipova also loves to experiment with expressive acrylic and ink techniques.
Today, Katya's artistic practice is diverse; ranging from book illustrations to typographic chalk murals, ongoing gallery exhibitions and seasonal craft markets.
See my process: katushkatush.com My Etsy Online Store: https://etsy.com/ca/shop/KatushKatush Facebook: https://www.facebook.com/katushkatushdesign/
---
Best season of the year in Toronto
Springtime!
How long have you been creating art?
Since I was a small and curious child.
Favourite medium
At the moment, acrylics!
Favourite movie
The Lord of the Rings Trilogy
Who do you consider a genius?
The person who realised sliced bread is marketable.
What artists do you admire right now?
Any and all that have decided to pursue their passion.
Select Past Exhibitions
2018
Toronto
VAM Exhibition
2018
Toronto
Queen West Art Crawl
2018
Toronto
Toronto Outdoor Art Exhibition
2018
Toronto
Cultivate Group Exhibition
2019
Toronto
Upstart Exhibition
Education
2011
Winchester School of Art
Graphic Arts
SHARE THIS ARTIST